MyCanoe is "the world's first origami canoe"
This 14-foot long beautiful Canadian-style open canoe can be folded into a 96cm x 46cm smart suitcase like box, portable and small enough to be stashed into a car boot, stored in campervans and motorhomes, or be taken on coaches, trains and planes. This canoe can make nature more readily accessible for outdoor explorers. This canoe is not intended to be a serious river running type of boat, rather is a touring canoe that is a step up providing a better paddling experience than what you will normally get from inflatable canoes. Use on flat water rivers, lakes and canals, and possibly some low level rapids.

An unique feature that this canoe has that possibly no other canoe has is that the MyCanoe has an adjustable rocker - either have no rocker for straight line touring / power paddling or some rocker (more curved keel) for twisting narrow streams. Difference is between 5-6cm at the bow and stern. The degree of rocker is achieved through the tightening of the webbing straps (4 each side) situated along the top of the gunwales.


MyCanoe is made of a ultra tough 5mm thick polypropylene corrugated plastic cardboard with hinges along the folds, which are durable to withstand up to 20,000 times of folding and unfolding. The whole hull comprises of a single piece of polypropylene with two separate reinforcement floorboard pieces which double up as the outer covers of the suitcase style box when folded.

A patented, award winning, TUV certified, high quality origami concept folding canoe. The custom polypropylene is UV treated to last 15 years.
Folding up (make box) in 5 minutes, unfolding (make canoe) in 10 minutes, the canoe is easy and safe for everyone. Built for longevity. Times are for one person - with two people, it will be quicker!

Features
- Patented design and single seam construction for easy assembly and folding
- Double-layer marine-grade custom manufactured polypropylene hull
- Marine-rated structures and materials
- Touring open canoe for paddling and fishing in rivers and lakes. Available for everyone to paddle
- Easy on performance and storage
- 14 feet long in use, compact box 96cm x 46cm folded
- The simple parts with practice, shortens the assembling process into less than 10 minutes (1 person assembling)
- Wide flat bottom provides good linear speed
- Small enough to fit into most small car boots
- Adjustable seat locations - the seats can be fitted on either side of the four cross ribs, allowing for various seating permutations
- Adjustable rocker - tighten the gunwale straps to create a pronounced rocker - useful for negotiating twisting narrow streams.

Specifications
- Canoe Type : Canadian open Canoe Style
- Material : 5mm Polypropylene Corrugated Cardboard Plastic
- Folding time (packing away): 5 minutes
- Unfolding time (assemble): 10 minutes
- Connection materials : velcro, buckles
- Components : ABS, Stainless Steel bolt, Aluminum cross ribs

Loading Capacity
- Maximum 529lbs / 240kg (2 adults + 2 kids)
- Suggested 440lbs / 200kg - (2 adults + 1 kid)

Components
- 1 x outer one piece canoe 'skin'
- 2 x central floorboards which also doubles up as the outer case of the folded box
- 4 aluminum cross ribs
- 2 seats
- 4 gunwale edging pieces with storage bag
- 1 rubber mallet
- 1 repair kit
- 1 carry bag - for packed canoe. Stores cross ribs, seats, gunwale edging pieces, mallet, and repair kit
MyCanoe folded - box and bag
Box includes a shoulder strap. Carry bag has some free space for extra items such as PFD's (not included)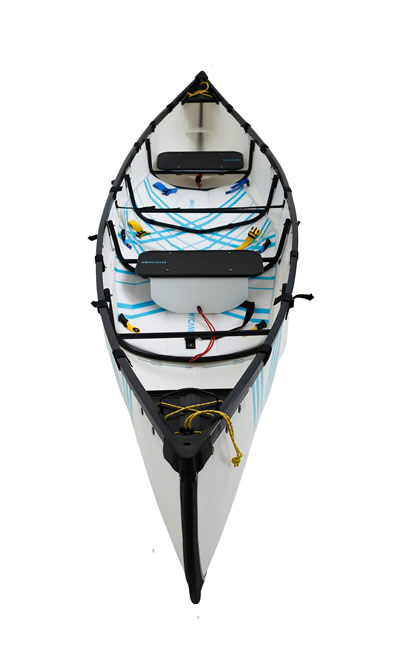 Stats - MyCanoe 2.5
Assembled
canoe

Folded
box

Packed bag

Length

430cm

94cm

88cm

Width

88cm

20cm

18cm

Height

61cm

63cm

40cm

Weight

23.2kg

15.9kg

8.8kg



History
MyCanoe 2.5 (4 cross ribs) is the latest improved version which came out earlier this year (2016). MyCanoe 1.0 (6 cross ribs) came out in 2013 / 2014. EG - MyCanoe is
NOT
a recent kickstarter development, it is a canoe that has been in development / production for several years already.
Certification
The MyCanoe 2.5 canoe obtained the German TUV Safety Certification Mark on 11/05/2016