Folding Kayaks (Used)- Post 1970 models / 100% original kayaks
(Pre 1970's models / rebuilt kayaks are listed here)

We have a limited selection of used folding kayaks in varying conditions. Detailed photos available on request. Spare parts and accessories for most of the recent kayaks are still easily obtainable. Accessories for older model kayaks can be custom made on request and spares can be sourced.

We do offer a referral service where we will advertise your kayak here on a commission basis. We check and take detailed photos of your boat and store them in a secure facility. We promote your boat on various media and space permitting, at some outdoor shows. On request from interested buyers, we demo them. Contact us for details.

Some kayaks are listed on eBay and may not be shown here.


Kayaks shortly to be listed - awaiting detailed photos and valuation
Below are kayaks that we have on hand, some of which are being sold on behalf of sellers

- Wayland Mk II 550 SOF (Mk II Formoza Quattro Combat) - Black - Ref ??TW
Complete with frame and skin. Some accessories, carry bags may need replacing
Details and photos on request

Klepper Aerius I 450 single seater- Ref ??LW
Complete with frame and skin. In excellent condition, hardly been used.
Details & photos on request




---
Used kayaks for sale - post 1970 models
(Pre 1970's models are listed here)
Kepper Aerius II 520 double seater - Ref 018AP RESERVED
Kepper Aerius I 450 Expedition Olive Green single seater - Ref 013JH RESERVED
Klepper Aerius II (520) Expedition double seater - Ref 012JH RESERVED
Wayland Mk II 550 SOF (Mk II Formoza 550XL Quattro Combat) - Olive Green - SOLD
Feathercraft Khatsalano S sea kayak - orange - £2500.00 - SOLD
Wayland Mk I Achilli 450 Commando - Black - SOLD



Kepper Aerius II 520 double seater - Ref 018AP - RESERVED
This kayak was a parting gift to an ex-Royal Marine on his de-mob several years ago, but the kayak was never used. It appears that the kayak may been a "rebuilt" boat because the frame is used whilst the kayak skin is looks unused (possibly new replacement skin). The kayak skin has some slight marks from resting against a wall and wooden trestles (paint, wood dust) before the photo session - can be cleaned off. The frame is in good overall condition. Seating - The bottom seats are of the raised moulded white plastic type, with original wooden backrests

Current condition (Any issues can be repaired / rectified by ourselves if required):-
Notes on frame - Good condition
Notes on skin - Good condition, almost new (hardly used)
Steering system - Included.
Spray deck cover - Included. Has matching colour cockpit hoops / rims (green) - fair condition
Kayak carry bags - Three bag set, one original, and 2 brand new

Note about photos: - it had been raining and part of the skin got wet, hence the photo session being done indoors

Price - £1350.00





Kepper Aerius I 450 Expedition Olive Green single seater - Ref 013JH - RESERVED
Complete with frame and skin - excellent overall condition. Proper deck colour can be seen in the middle row of photos

Current condition (Any issues can be repaired / rectified by ourselves if required):-
Notes on frame - Good condition. One gunwale side ladder has a panel replaced
Notes on skin - Good condition
Steering system - Has an home made rudder bar fitted. This can be removed and original rudder pedals supplied
Spray deck cover - None. Can be supplied on request
Kayak carry bags - No bags (missing or broken / torn). New bags can be ordered from us

Price - £1250.00 with rudder


Klepper Aerius II (520) Expedition double seater - 012JH - RESERVED
Well looked after kayak
Current condition (Any issues can be repaired / rectified by ourselves if required):-
Notes on frame - Good condition. Alu fittings a little worn but still workable - can be replaced
Notes on skin - Good condition. Sun beached decks. Hull - no marks, no damage. Sponsons needs repairing
Steering system - Complete
Spray deck cover - Reasonable condition. Waist skirts included
Kayak carry bags - Three bags, in good condition. Zipper broken on 3rd RIB bag

Price - POR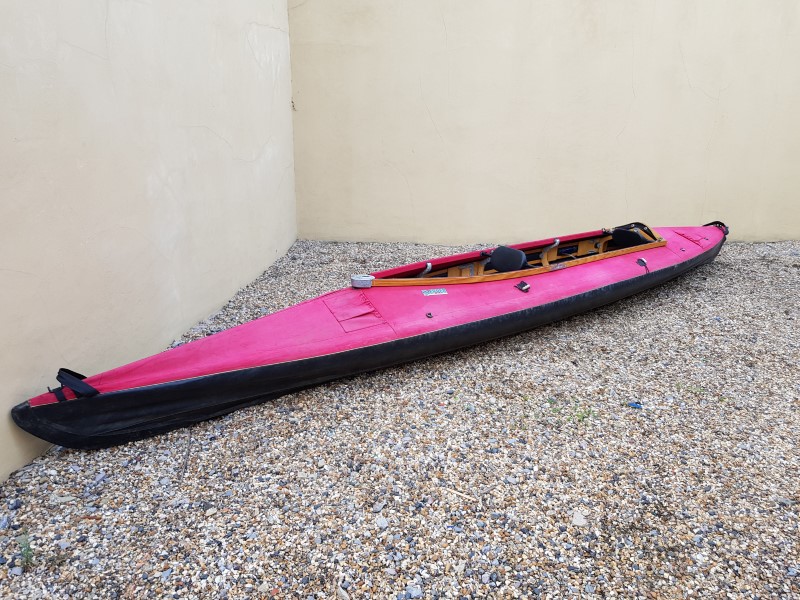 Klepper Aerius II Expedition (520)





Wayland Mk II 550 SOF (Mk II Formoza 550XL Quattro Combat) - Olive Green - £2100.00 - SOLD
In very good condition - only used twice - test paddle and then a 8 day charity paddle around the Falklands. Complete with Commando Pack.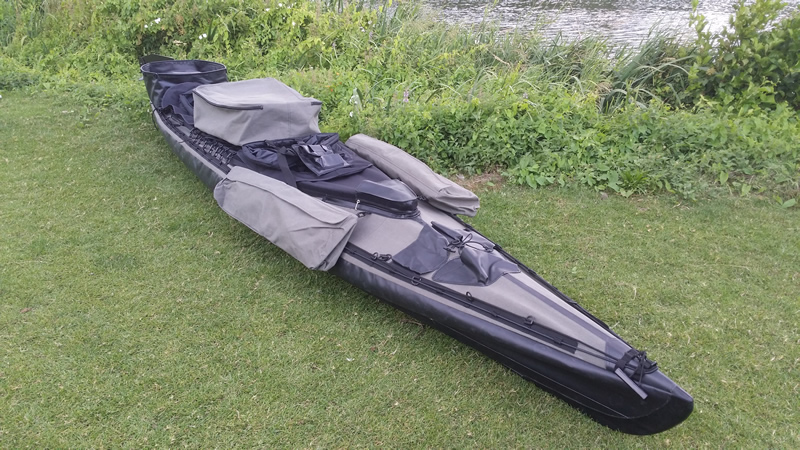 Stock photo





Feathercraft Khatsalano S sea kayak - orange - £2500.00 - SOLD
Overall, in good condition. Has one linear abrasion just on the right hand side of the hull in front of the
cockpit. This is covered on the inside with an adhesive patch backed up with duct tape
Kayak specifications can be viewed on the Feathercraft's website - http://feathercraft.com/kayaks/khatsalano/

Notes from the seller:-
"After much soul searching I am selling my treasured Khatsalano. In our 10 years together, after I bought her direct from Feathercraft in Canada, we have had marvelous adventures together, paddling around and between the Greek Islands, including circumnavigating Symi, from Kos to Rhodes and from Anti Paros to Santorini, camping on deserted beaches and showing the yatchies what real seafarers are made of. We've paddled off the Algarve too. I'm sad to part with her but it's time to be with my grand kids and have adventures with them. She paddles like a hard shell kayak, only better. She edges and rolls but also flexes a little in bigger water, which takes much of the force out of the larger waves. It's a great feeling. For those used to flatter bottomed boats she might seem a bit wobbly, but only to start with: that reduction in primary stability is what allows the edging to happen, and is more than made up for by the rock steady secondary stability. She has the capacity to carry gear for multi-day trips and is even more stable with a heavy load.

With the boat comes:
A rudder (should you wish to use it: I rarely have)
A "sea sock" which prevents water entering the rest of the boat if you decide to fall in.
A spray deck Bow and stern air bags in protective covers
An alternative "rolling rib" which lowers the rear deck during assembly to facilitate rolls that require leaning back.
Foot rests that have been modified to give bigger surface area for your feet.
A trolley that can be fitted to the bag when travelling or can be used to move the boat.
A collection of patching materials for the hull and deck
Original Feathercraft carry bag, which has a rucksack option
Owner's manual and assembly instructions"




(Stock photos) - photos on request






Wayland Mk I Achilli 450 Commando - Black - SOLD
In reasonable good condition. Black deck and black varnished frame, Hypalon hull. Good as new, with very minimal signs of previous use. Standard commando deck features - anchor pocket / holder, paddle pockets/ holders, bow to stern deck-lines with D-rings, front and rear deck belts with cargo nets, lifting D-rings, and rear loading hatch. Quattro with 25cm + 2 x 6cm keel strips. Spray cover, lifting straps, black wooden split paddle, and camouflage kayak skirts included. This is a short single seater, suitable for those less than 5' 8 and under 80kg (IE small girth).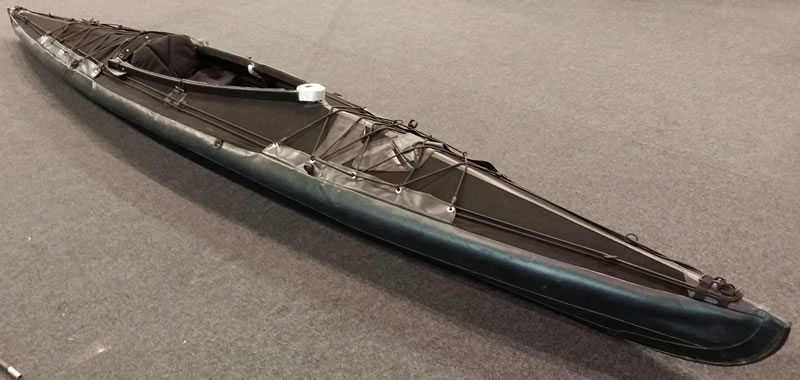 Mk I Achilli 450 Back




Wayland Ursus IV 700 Expedition Quattro 4 seater - Crimson Dark Red - SOLD
Crimson Dark Red deck, black lightweight TPU hull. Quattro sponsons, 4 x 6cm keel strips, bow to stern safety deck lines, bow and stern deck belts with cargo nets, bow and stern paddle pockets. Four standard seats (not all have to be fitted / used) - EG in an extended expeditionary role, use 2 seats with kits packed in between the paddlers. Includes 4 carry bags with plenty of free space to add other kayaking kit such as PFD, spray cover with individual cockpit covers (IE close off unused cockpits to keep water out etc).
Crimson dark Red Ursus IV Expedition Quattro