Announcements -
Latest News

10/04/20 - TYNE folding kayaks / canoes - Spare parts including frame pieces and hardware are currently being updated here

29/03/20 - More used folding kayaks added - Includes classic Kleppers on this page and a chance to get a military grade Wayland F550 on this page!

08/12/19 - More used folding kayaks added Includes Wayland Amazon II 520 & 550, Kleppers, a Pouch RZ85, and a rare LFB Stern WZ60 complete with original sail rig

04/05/19 - More vintage paddles added. Original two piece wooden vintage paddles in various conditions here


19/11/17 - new 'kid on the block' - Neris SMART Series of kayaks. Unique hybrids that can either be paddled as a canoe with bench seats or as a kayak with inflatable floor seats. A cross between a folding kayak and an inflatable kayak. Starting with SMART-2 here

17/11/17 - new range of Greenland paddles added - Gram Kajak paddles. In 2-3 piece in both wood and carbon versions. Appearing on the 'New Paddles' page here

02/03/17 - Product Videos page added. Videos of some of the listed folding kayaks ... see here



Exclusive UK dealer for the following brands:-

We are a specialist team that previously was an exclusive folding kayak brand dealer in the UK with several years experience. We now have added a multi-brand on line store to better serve a growing UK market with a wider range of foldable small craft - from "Klepper" type of kayaks, to lightweight canoes plus related accessories.

Gram Paddles - wood and carbon Greenland paddles

NERIS - foldable alu framed kayaks

WaveDesign - carbon paddles including Greenlands


We also specialise in Klepper spares and rebuilds as well as other brands on an non-exclusive basis with various manufacturers

Can we paddle anywhere?
In the UK, you need a license to paddle in most of the waterways, rivers, lakes, etc.
BCU membership (Canoe England, Canoe Wales, Scotland Canoe Association and the Canoe Association of Northern Ireland) includes a license to paddle on 5000km of Britain's waterways and canals.

Not all inland water is open to canoeists, some are privately owned or is bounded by land which is private, so do check beforehand. See Useful Websites page.



Film and TV prop hire - military and civilian folding Klepper kayaks, canoes, boats

Folding Kayaks UK has a collection of military folding kayaks, including the famous NATO Klepper Aerius II's as originally used for many years by UK's Special Forces SAS, SBS and other units such the Royal Marines Commandos etc, of which some has been made available to hire as film props as well as for photography to use with computer games development.

Folding kayaks hire are only available to use as props for use by film, TV industries, as well as for commericals, magazines, exhibitions, shop displays, special events and photo shoots. These are not available for leisure hire (unless the hire is as a "try-out" prior to placing a definate kayak order with ourselves).

All kayaks are in working order and is 'fit for purpose' - IE are still in use with no leaks etc. We also have a few kayaks that are 'not fit for purpose' - these can be used as background props. Original 'vintage period' civilian Kleppers, British Tynes, British Grantas can also be made available on request for non-military related films etc.

Contact Us (Email address in page banner above) for further details, together with details of your requirements (quantities, when and approx duration etc). Hire of the folding kayaks can be arranged with daily, weekly or long term rates. If you require several kayaks, all identical, then do contact us well in advance.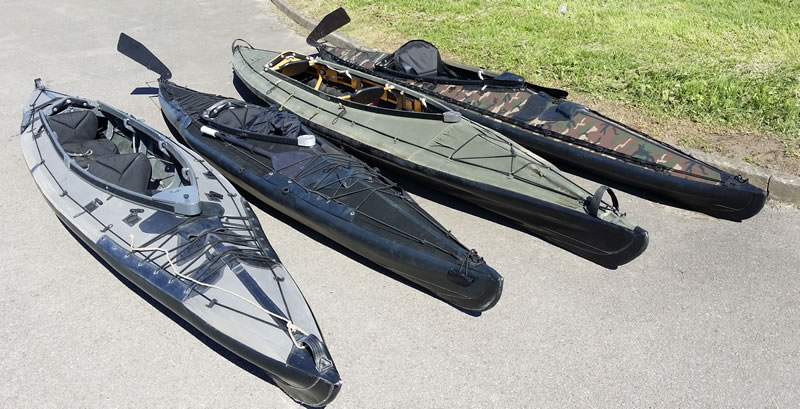 A cross selection of sample Klepper and Wayland double and single seater folding kayaks - the current range of hire kayaks changes from time to time