Announcements -
Latest News

04/05/19 - More used folding kayaks added Includes Kleppers, a Pouch RZ85, and a rare LFB Stern WZ60 complete with original sail rig

04/05/19 - More vintage paddles added. Original two piece wooden vintage paddles in various conditions here

20/03/19 - Incredible find! A rare UNUSED 1960's Klepper Aerius II for sale ! Found during a recent house clearance sale - in mint condition. See here - SOLD

19/11/17 - new 'kid on the block' - Neris SMART Series of kayaks. Unique hybrids that can either be paddled as a canoe with bench seats or as a kayak with inflatable floor seats. A cross between a folding kayak and an inflatable kayak. Starting with SMART-2 here

17/11/17 - new range of Greenland paddles added - Gram Kajak paddles. In 2-3 piece in both wood and carbon versions. Appearing on the 'New Paddles' page here

02/03/17 - Product Videos page added. Videos of some of the listed folding kayaks ... see here



Exclusive UK dealer for the following brands:-

We are a specialist team that previously was an exclusive folding kayak brand dealer in the UK with several years experience. We now have added a multi-brand on line store to better serve a growing UK market with a wider range of foldable small craft - from "Klepper" type of kayaks, to lightweight canoes plus related accessories.

Gram Paddles - wood and carbon Greenland paddles

NERIS - foldable alu framed kayaks

WaveDesign - carbon paddles including Greenlands

Wayland Folding Kayaks - traditional foldable wood framed kayaks

ZelGear - inflatable kayaks and catarafts (catamaran rafts)


We also specialise in Klepper spares and rebuilds as well as other brands

Can we paddle anywhere?
In the UK, you need a license to paddle in most of the waterways, rivers, lakes, etc.
BCU membership (Canoe England, Canoe Wales, Scotland Canoe Association and the Canoe Association of Northern Ireland) includes a license to paddle on 5000km of Britain's waterways and canals.

Not all inland water is open to canoeists, some are privately owned or is bounded by land which is private, so do check beforehand. See Useful Websites page.



NERIS Valkure-1
Single seater folding kayak
Detailed Specifications



Back to kayaks overview listing


Kayak
"NERIS Valkure-1" - a modern hybrid framed single seater kayak with a very large cockpit - larger than most single seater folding kayaks. The Valkure Series also include bow-to-stern pair of integrated sponsons. The large cockpit has the advantage of being like a open Canadian canoe, allowing for very easy access to packed kit and also offers ease of entry to large paddlers or those with knee problems. This kayak is ideal for solo enthusiasts who prefer a reliable work horse for flat water expeditions on rivers and lakes, whilst still being perfect for short day trips.

Features
The kayak has an extra large sized cockpit with shorter front and rear decks, and comes with comfortable one piece inflatable seat with a tall backrest. The "NERIS Valkure-1" has wood cross ribs and aluminium longitudinal frame pieces with brackets made of stainless steel, which significantly improves the kayak's reliability, strength and endurance. With the larger cockpit, access to packed kit stowed in the front and rear portions of the open cockpit is easy - fit the spray cover on, then all the kit is under cover. You still have the usual under deck storage spaces, with the extra advantage of the decks being shorter - much easier to reach into the very ends of the kayak.

Design
The "NERIS Valkure-1" has a hybrid frame of a simple and reliable design. The boat is easy to assemble, has no short-lived plastic/rubber fasteners in the framework. The frame is made of high quality D16T grade anodized aluminium tubing. The cross ribs are made of high quality marine birch plywood, and is covered with a special coating produced by the Finnish company Tikkurila, which protects the wood against UV radiation, mildew and fungi. The skin is made entirely of durable PVC which does not absorb water, so after a paddle, simply wipe with a dry cloth and the kayak is ready to be packed. The cross ribs in the cockpit area are of the open design, which means you can sit anywhere within the cockpit. There are also integrated bow to stern air sponsons which helps to tension the skin over the kayak frame plus provide built in buoyancy.

Crew
Number of seats - one paddler. The standard spray cover has 1 keyhole shaped cockpit hole, and comes complete with 1 skirt and 1 cockpit cover.


Construction
- Longitudinal frame pieces - anodized aluminium tube 16h1mm D16T
- Cross ribs - Marine birch plywood coated with special marine varnish
- Brackets - Stainless steel 0.8 mm
- Kayak skin - PVC with material density of 1050 g / m2 (hull) and 620 g / m2 (deck)
- Hull - profiled rubber protector strips glued along chines formed by keel bars and stringers
- Removable fasteners - stainless steel nuts/bolts
- Seats - PVC with a density of 600 g / m2 with inflation tubes and twist valves
- Packaging - Cordura. Backpack (120 x 25 x 50 mm )
- Longitudinal internal sponsons - PVC tube

Longitudinal alu frame pieces, wooden cross ribs, and folded kayak skin

Specifications

Length of 4.00 m

Width - 0.70 m

Weight - 21 kg

Number of seats - one

Load capacity - 120 kg

Assembly time - about 20 minutes


Video of kayak in action here

Materials

Hull - 5-ply PVC TE90 (900 g / m2)

Deck - 5-ply PVC TE62 (620 g / m2)

Packaging - Cordura 100

Stringers - anodized pipe brand D16T (DIN 2024)

Keel bar / Keelson - profiled aluminium oval tubes

Cross ribs - Finnish marine grade plywood

Sponsons - clear PVC tubes




NERIS Valkure-1 single seater kayak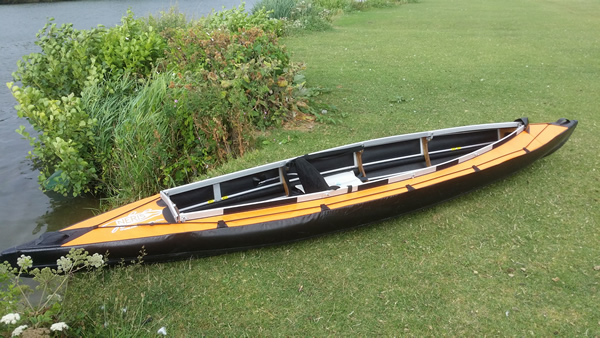 Overview showing the huge open storage space behind the seat and a smaller one at the front. The under deck storage spaces are easily accessible, unlike most other kayaks with long deep decks.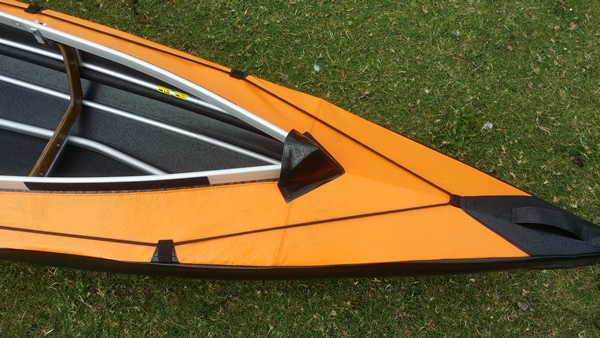 Paddler's feet will be in front of the wooden cross rib on the left - front stowed kit can be filled up to this cross rib.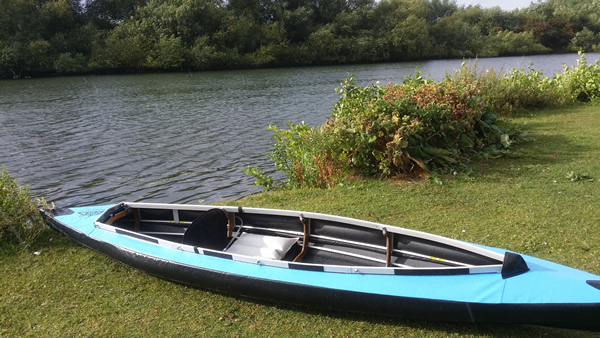 Without spray deck cover ...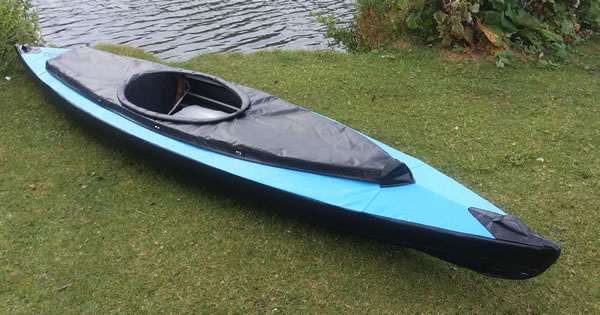 Spray deck cover fitted. The keyhole cockpit is still large for easy access. The spray deck cover covers kit stowed within the cockpit - you can lift the front or rear part of the cover to access that section of the cockpit without needing to take the whole spray deck cover off.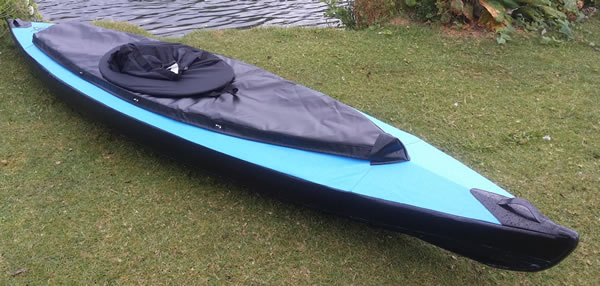 Waist skirt fitted ....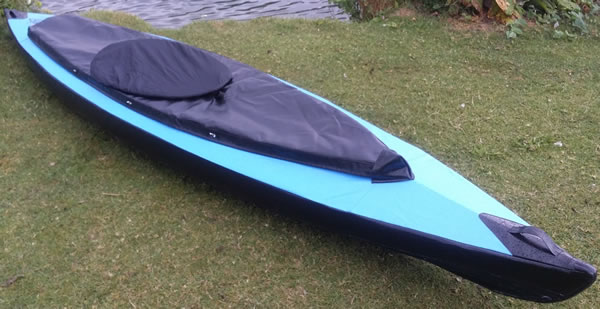 Cockpit cover fitted. Use to close off kayak when camping overnight, or car topping.